Irene S. Smith, BA, MBA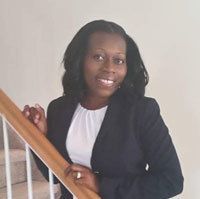 Irene Smith is a vice president and branch manager at TD Bank, N.A. She is a graduate of the College of St. Elizabeth, where she received her Bachelor of Arts Degree in Psychology. After spending sometime in the financial world, she attended the University of Phoenix, where she completed her Masters of Business Administration (MBA). Her professional interests are focused on developing, coaching, teaching, building, and managing talent. She leads, motivates and inspire individuals to excel in their professional careers by building their personal brand.
Ms. Smith has spent the past eighteen years in the financial industry climbing the corporate ladder and is an active member of the community in which she lives and work.
She sits on the Board of the New Development Project Management in the city of Scotch Plains, NJ, is a Habitat for Humanity volunteer, and member of the local Chamber of Commerce in her home community. She is a strong advocate for the empowerment of women and young adults.
---