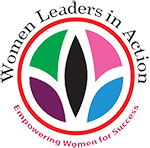 WOMEN LEADERS IN ACTION SCHOLARSHIP
WLA knows that college is a big step forward in achieving your goals and we are here to help get you there.
See details below.
Scholarship Application Form
To be considered for this scholarship, you must be a senior high school student residing in New Jersey, intending to pursue a degree in the healthcare field, liberal arts or Science technology Engineering Math (S.T.E.M.). This application is free of charge. If you have any questions
Complete the form below to participate for this scholarship!
Deadline
Submit your application and all required documentation by
Friday May 13, 2022 at 11:59 PM EST
Please submit your Curriculum Vitae, essay, school transcript, and the application all together via email. Your essay should be 300-500 words. You should address in your essay: your college goals and choice of major, what you intend to do with your education, and why a scholarship is important to you. Include any academic and non-academic accomplishments, personal characteristics, or experiences that make you uniquely worthy of scholarship consideration.
Curriculum Vitae & Essay*
By submitting this application, you are certifying that all information is correct and that you are the person completing this application. W. L. A. reserves the right to keep any information submitted.